.
Rainbow Beach… it's one of the most beautiful places to be married, wouldn't you agree?
Kirsty & Andrew certainly do, celebrating their marriage at the Rainbow Beach Surf Life Saving Club last year. The happy couple and their guests enjoyed white chocolate mud cake with a dark chocolate ganache filling. Yum!
Fresh Baby's Breath from Karinya Florist complimented the more than 20 handmade icing roses decorating this cake in a beautiful cascade flowing down from the posy on top.
Additional details included quilting with white sugar pearls on the middle tier, piping on the top and bottom tier, and silver diamantes around the base of each tier.
All cakes from Bonnie's Cakes and Kandies are gluten free and safe for coeliacs, made in my dedicated commercial kitchen.
Here's to Kirsty and Andrew, and to all of the wonderful years they have ahead!
.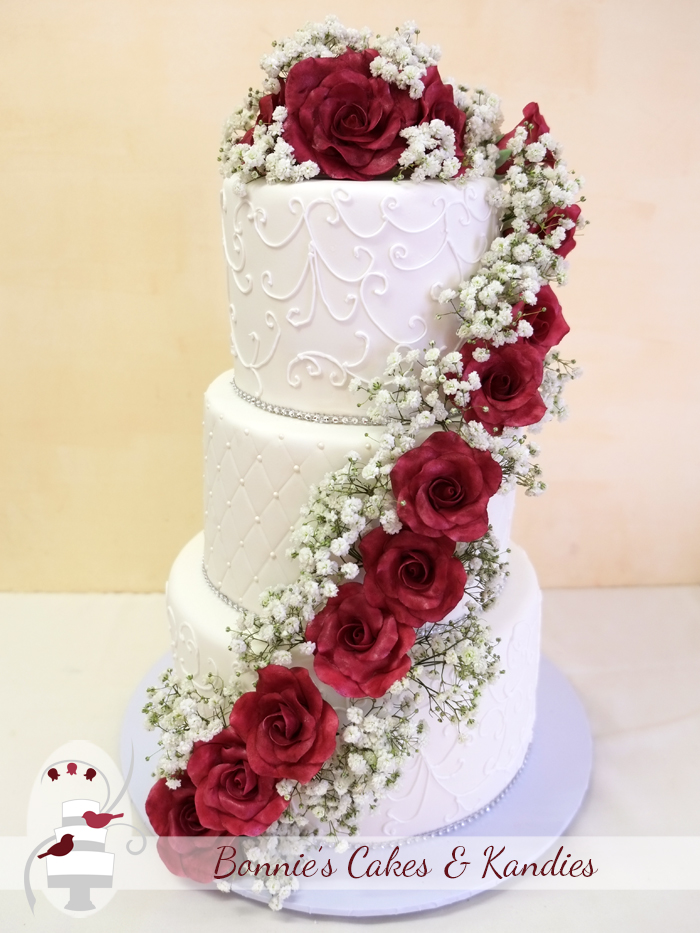 .
Tagged: cake decorator, gluten free, gluten free wedding cake, Gympie, Gympie cake decorator, icing flowers, Rainbow Beach cake decorator, Rainbow Beach wedding cake, wedding cake